My fingers hesistated over the screen for a good five minutes, wondering for the umpteenth time if I could really do what I intended to do. It had been my intention for more than a month but I never did manage to muster the courage needed.
But today. Today is the day. At least, it will be. Once I find my elusive will.
"Fad? She's addicted."
"She once threw a tamper tantrum to a helpdesk officer because they screwed up and she could not get it for two weeks."
"She will die without it!"
I would, wouldn't I? My fingers moved away from its hovering position over the screen and hid stubbornly in my palm. Maybe I would be able to control myself? Maybe I could stop being so addicted and perhaps implement a five-year detachment plan? Maybe I could stop tomorrow? Or next week? I mean, it's the holidays! Right? Maybe –
I took a deep breath and pressed the 'x' on the jiggling icon, successively followed by 'delete' before I had time to think twice. It whooshed and disappeared into thin air in a fraction of a second. Like my breath. Gone.
Eyes wide, I started breathing again after staring at the screen for another five minutes. The space that once sheltered Facebook looked empty. In a nice way. My focus shifted on the occupied space next to it – Instagram.
The icons jiggled again. X – Delete. Jiggle. X – Delete. Jiggle. X – Delete.
The next thing I knew, Instagram, Twitter, Snapguide, Tumblr, WordPress and a host of other jiggling icons had whooshed and disappeared into a black hole just like Facebook did barely seconds ago.
All that's left on my main screen was this: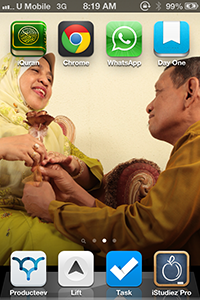 There was no going back. I had to reclaim my life, my mind and my soul before I lose it all.