One of the things I get asked often by friends and readers is how to seek knowledge, be it secular or Islamic, when life is hectic, there is no time to travel to different locations, our schedule is erratic, the costs are too high, and how all of these accumulate to issues of commitment.
Honestly, I think all of these worries were valid a year or two ago. However, with the advent of Massive Open Online Courses (MOOCs) and the rise of the open-source concept, each of the above excuses have been addressed. No time to travel? Learn from the comfort of your own home! Erratic schedule? Learn at any moment you are free! Costs are too high? Free of charge! Commitment issues? Seriously?!
Four years ago, I took a part-time certificate to learn Multimedia Design from the Nanyang Academy of Fine Arts in Singapore. All we learnt were the basic know-hows on using softwares like Adobe Photoshop, Illustrator and Dreamweaver. It cost me more than a thousand dollars and time for transportation from one end of the country to another. Today, I am learning basic Adobe InDesign, sitting in my balcony, at the cost of USD 15.
Awesome or what?
Below I have compiled several websites I have used before, or am using right now, to study online:
Seven Websites for Online Learning
1. Islam: SeekersGuidance (Link)
SeekersGuidance is an online portal for learning Islamic knowledge, and they have just opened registration for the new semester. I have met some of the teachers in real life, and honestly, they are beyond awesome. They offer courses like Absolute Essentials of Islam, Fiqh of Life, and others, for beginners and advanced learners alike. Most courses are conducted in English.
There is also a programme called SeekersStep where there is a curriculum to follow. Additionally, if you prefer community learning, there is SeekersCircle programme in various countries. I am part of SeekersCircle Kuala Lumpur, and I have written about it here.

2. Secular: Coursera (Link)
Coursera offers a host of courses from Humanities, Medicine, Biology, Social Sciences, Mathematics, Business, Computer Science, from universities all around the world (even Ivy League ones), in a variety of languages from English to Arabic. Courses are free, with added payment options for value-added services or certificates.
3. Secular: Khan Academy (Link)
Khan Academy hosts more than 4,500 videos teaching everything from arithmetic to physics, finance, and history. Like Coursera, courses are free!
4. Various Skills: Skillshare (Link)
Skillshare is a platform that connects people with skills to those who want to learn these skills. Courses range from advertising, design, business, fashion, film and video, food, photography, technology and even writing and publishing. There are a couple of free courses available, but most are priced below USD25 per course.
I am currently taking the course "Learn InDesign: Layouts, Types and Images" and so far it's been good. Also, use this link to sign up for your first course and get $10 off (and I get $10 off too heh!).
5. Web Design & Coding: Treehouse (Link)
I gave Treehouse a test using the one month free coupon (which I added in the link; you're welcomed!), and seriously I love it! Treehouse is a platform for curriculum-based learning, and it offers paths to master web development, programming, iOs development and recently it even included modules on running online businesses.
To keep quality at its best, Treehouse is a paid service, but at USD25 per month, I feel it's a steal for those who are serious in learning these skills. The only reason I suspended my account after the trial was because even though I like web development, I feel that for now I should concentrate on writing and other priorities.
6. Coding: CodeAcademy (Link)
CodeAcademy is also a curriculum-based learning for coding, but free! I tried it once before but dropped halfway because I kept getting repeated technical errors. However, thousands of others have benefited from it and since there are no costs to entry, there really is no harm in giving it a try.
7. Journalism: Knight Center for Journalism (Link)
For Journalism students (or anyone interested in data-driven stories), Knight Center has recently opened registration for the course "Data-Driven Journalism: The Basics". It's currently only at Week 1 and my experience with it so far has been good. There are video instructions, additional readings, forums for discussion and quizzes at the end.
Best of all, it's free!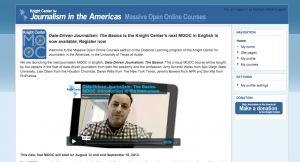 Some Points to Note
Firstly, seeking Islamic knowledge through a reputable online platform with prominent and legitimate teachers is good, but further, and better, Islamic learning should be taken offline in real life with a teacher you can sit and have a discourse with.
Secondly, although most of the sites stated above host courses for free, it is inevitable that they too have overhead costs to cover. A little donation goes a long way to help the sites self-sustain and remain free to those who cannot afford it. Additionally, commitment is always an issue for free courses because we tend to take it for granted. Thus paying for courses or paying in terms of donations actually helps in motivating ourselves to be more committed in utilising the resources.
Lastly, I hope the list of sites above can help you get a headstart on your online learning journey. There are numerous other MOOCs out there for you to discover that may be suitable for you; seek and you shall find!
What other excuse do you have? ;)
– – –
For students of IIUM, insyaAllah I will be opening workshops on presentation skills and writing term papers in the upcoming semester (September 2013), at the suggestion of various lecturers to share what I have learnt.
If you are interested to join me and learn tips on how to get As for your assignments (especially for students in the Kulliyah of Human Sciences), please subscribe to my newsletter  to be informed when workshops are open for registration and other updates. Alternatively, you can reach me at fadhilah.wahid@gmail.com. Jazakumullah khayr!